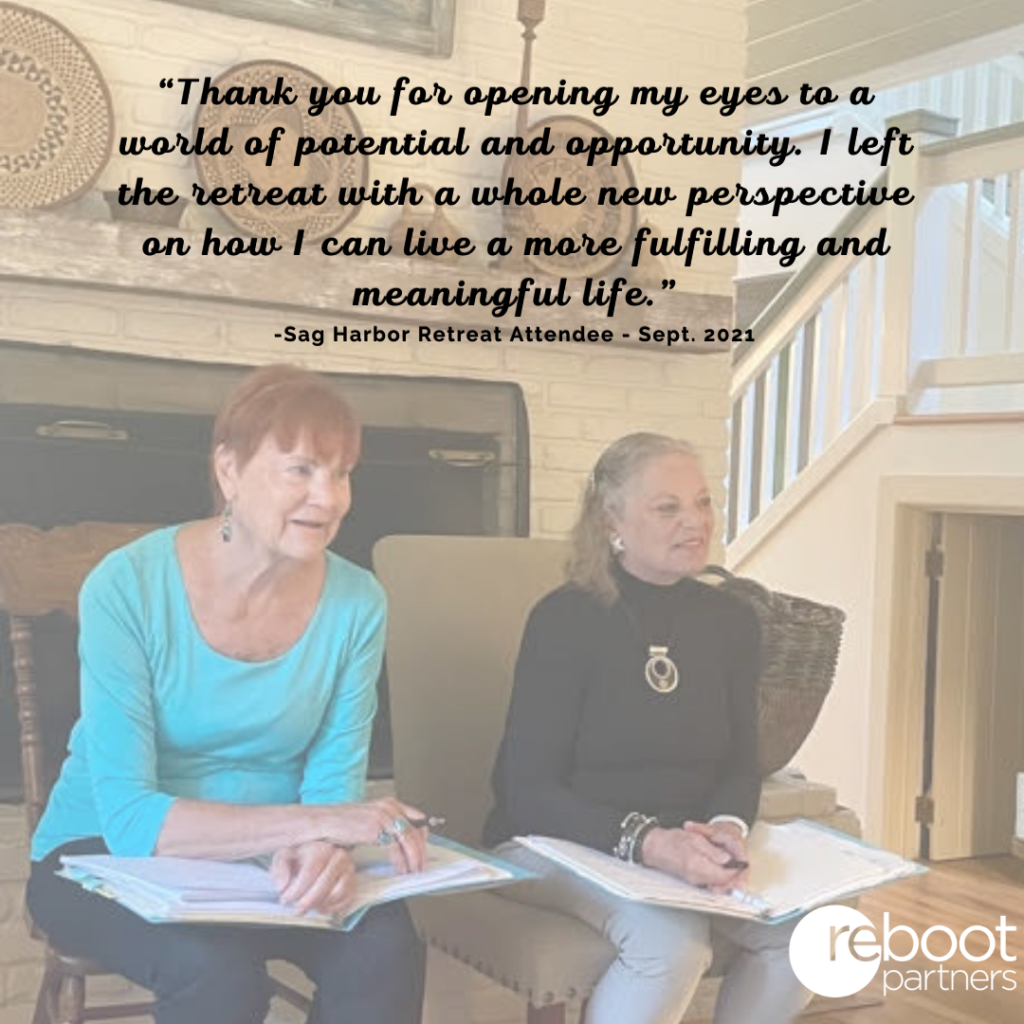 Reboot Your Life Retreat

"Thank you for opening my eyes to a world of potential and opportunity. I left the retreat
with a whole new perspective on how I can live a more fulfilling and meaningful life."
— Retreat Participant
"Cathy, Nancy, and Jaye create an experience that is truly holistic — the synergy is
contagious, and the retreat has been one of the best investments I've ever made for myself."
— Retreat Participant

And a great time was had by all! The participants at the recent Reboot Your Life Retreat in Sag
Harbor named themselves The Girls in our tradition of Reboot groups naming themselves. This
group of women jelled from the beginning and truly enjoyed their journey together. Their
favorite was the walking visualization on the beach, and the extended time they had for that
exploration. All came away from the beach experience with exciting new ideas and clarity for
their next chapter.

During the weekend, everyone had many chances to share ideas and experiences with each
other, which is the magic of the Retreat. The participants spanned several decades in age and
had varied careers and goals, but they all learned from each other. As we always do, we
facilitators (Jaye, Cathy, and Nancy) added new relevant exercises and tailored material to the
group.

All left with a pathway forward and new tools for their next chapter. Some tips they received
are:
· Take small risks, try something new each day
· Create goals for what you want to achieve
· Schedule time for yourself every day
· Nourish yourself after stressful events
Well done, Girls!

And, most of our Retreats have included men, so men should be encouraged to join. Our 2022
Retreats are Santa Fe April 8-10 and Sag Harbor September 16-18. See our website at
rebootbreak.com or this page for more information. Or contact us at
contact@rebootbreak.com.