Are you feeling the call to renew your life, your work, and your ideas of what's possible?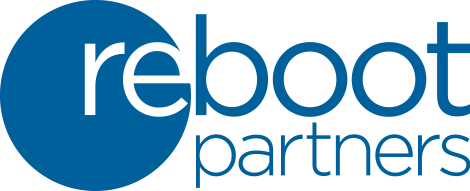 Reboot and Reinvent Your Life Now
Maybe you want to leave your job or retire, but don't know how to start planning for it.
Or the pandemic and sheltering at home has made you re-evaluate your priorities and you want to rebalance and reinvent your life and work.
Does this sound like you?  We Can Help.
Reboot Partners LLC is a woman-owned strategic consulting firm with programs for individuals and organizations. They are the go-to experts and thought leaders on reinventing and rebooting your life as well as planning for retirement.
Based on years of hosting retreats and coaching people just like you, as well as two deeply researched books about the benefits of rebooting, we'll help you create a vision and chart your plan. With concrete actions designed to truly change your life, your work, and your frame of mind, we'll help you get unstuck and move ahead to the life you've dreamed of. 
Our programs are crafted to meet the needs of people just like you. Choose from in-person events, one-on-one coaching and virtual small-group courses.
3In-Person Reboot Your Life Retreat
Ready to take action on your dreams? Want to meet the challenge of personal and professional reinvention head-on, in the company of other change-seekers? Settle in for our signature event: a weekend retreat designed to maximize personal growth, and connection with startling results. Together we'll explore the tough challenges and the rich possibilities of Rebooting.
The retreats, now in their twelfth year, include expert facilitation and attention by the Reboot Partners, beautiful locations, gourmet food, professional materials, and a deep research and experience base. Our retreats provide space and learning for you and a sense of community. The rich sharing among the participants is a hallmark of our events.
You'll leave with:
A new understanding of what you want and how to get there
Your roadmap to the life you crave
Techniques for overcoming emotional hurdles and coping with change
New ideas and answers on vision and planning, communication, finances, whole life strategies, changes at home, simplifying, and legacy
Connections with others like you who are ready for a new, better life
The retreat begins Friday at 3:00pm and ends Sunday at 1pm. The retreat includes:
Gourmet meals and beverages, social events, guest speakers, custom planning and thought-provoking exercises, coaching during the retreat, and all materials
A relaxing and supportive setting that encourages community, creativity, and contemplation
A one-hour individual coaching session with a Reboot Partner after the retreat
2023 IN-PERSON RETREATS – In 2023, we are offering two in-person Reboot Your Life retreats in two fabulous locations: Santa Fe, New Mexico to brighten up the winter and launch spring (completed) and Sag Harbor, NY in the beautiful fall. We are monitoring the Covid-19 situation carefully and will only have the retreats in person if it is safe.
May 5-7, 2023:

In-Person Reboot Your Life Retreat

Santa Fe, NM

Sept. 29- Oct. 1, 2023: In-Person Reboot Your Life Retreat in Sag Harbor, NY 
We are taking a hiatus in our retreats after our two scheduled 2023 retreats. If you are planning to attend, please sign up soon! Spaces will go fast.
Sign-up for One of Our Retreats
Reboot Your Life –Intensive In-Person Weekend Retreats
$1695 Early Bird price until 30 days before retreat begins; $1895 after
(comparable cost at least $5,000)
Virtual One-On-One Coaching
After a webinar series or retreat, or on its own, tap into the resources of the Reboot Partners in a more personalized way. We offer:
One-on-one 60-minute coaching sessions to support your journey @ $250/hour (comparable cost $500/hr and up)
Special packages of 10 sessions for $2,350 (comparable cost at least $5,000)
Reboot and Reinvent 4-Part Webinar Series
These four two-hour virtual sessions on Zoom are designed to guide you from vision to real, lasting change. This series includes presentations, exercises, discussion, breakout rooms, and lots of thought-provoking discussion. The session each day is 5:00-7:00pm ET/2:00-3:30pm PT. These virtual sessions, started during the beginning of the COVID-19 pandemic, have been very successful in 2020 and 2021.
DATES: None scheduled now.
What You'll Get
Effective tools to access your goals
A greater understanding of your blocks and obstacles
Better confidence in your choices
Expert support throughout from Reboot Partners
Topics Include
Getting started: hurdles and visioning
Planning and skills
Using your time
Communicating: supporters and naysayers
Funding your freedom and maximizing budgets
Circle goals and your path
For more than a decade we've been guiding people just like you to a new and better life, personally and professionally. Our clients have learned through our retreats and coaching to say YES to the exciting future they know is there — if they can just let go of the fear.
Want to be one of those people? Join us and say YES to:
A fearless vision: What do you REALLY want?
Seeing and slaying obstacles: What's in your way and why?
Mapping the life you want: Yes, you can get there from here!
Ready to take steps toward the future you want? We'll help you break through to a new and exciting life.
We Look Forward to Seeing Soon!!  Live Your Dreams!!
We can talk by email or set up a call to discuss which option is right for you.
Questions? Write us at contact@reboot.com.
More About Reboot Partners
The Reboot Partners, Catherine Allen, Nancy Bearg and Jaye Smith, have been where you are. And it's from those experiences that we created our retreats and wrote our books. We have all reinvented our careers several times over . . . Catherine from a retail executive to an academic to a corporate executive to a trade association CEO to a corporate board director and Founder and Chair of a cybersecurity and risk management company . . . Nancy from a public policy expert to a White House National Security Advisor to a nonprofit CEO to an adjunct professor and consultant . . . Jaye from an actor to a corporate executive to an entrepreneur to a Corporate Leadership and Life Coach.  It's from those career experiences, and the research they have done on hundreds of people going through transitions, attending their retreats, and hearing their lectures that they are able to give retreat attendees practical, informed, and relevant career and life advice.
The Reboot Partners are the co-authors of The Retirement Boom: An All-Inclusive Guide to Money, Life, and Health in Your Next Chapter (Career Press), Reboot Your Life: Energize Your Career and Life by Taking a Break (Beaufort Books), and A Journal for Inspiration: Reboot Your Life. Our workshops and retreats have been featured in The New York Times, Wall Street Journal, The New York Post, and on Fox BusinessNews, MarthaStewartRadio, Oprah's OWNNetwork, and WPIX NY.
Best wishes, and we hope to see you soon, virtually or in person,
Nancy Bearg, Cathy Allen, and Jaye Smith
Reboot Partners LLC www.rebootbreak.com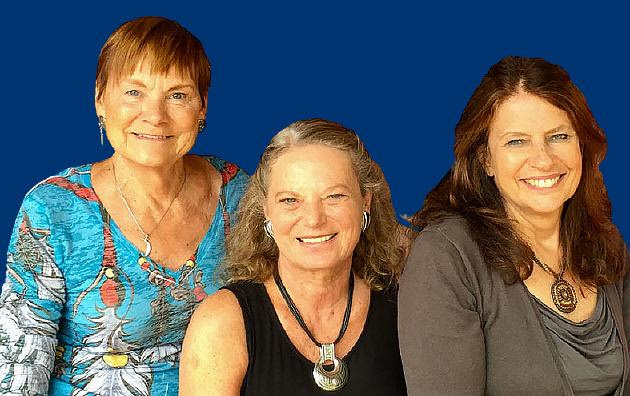 Nancy, Cathy, and Jaye at Reboot Your Life Retreat in Santa Fe, NM